Shine Cosmetics Eyeshadow Palettes
Shine Cosmetics Eyeshadow Palettes
Shine Cosmetics Eyeshadow Palettes are here! There are four beautiful Palettes: Be Captivating, Be True, Be Cheerful, and Be Humble. These soft and silky eyeshadows are highly pigmented, apply evenly, build and blend well. These eyeshadows are long-lasting, won't crease, smudge-proof and can be used wet or dry.
BE HUMBLE: Natural Mattes & Metallics
BE TRUE: Pinks, Purples, Mauves
BE CAPTIVATING: Smoky Mattes & Metallics
BE CHEERFUL: Coppers, Burgundies, Golds
SHINE COSMETICS EYESHADOW PALETTES | $29
BE CAPTIVATING
CONFIDENT. CALM. CLASSY. Create looks that are simply captivating with this beautiful blend of smoky mattes and metallics. Pair the Be Captivating palette with our eyeliner in Peace or Focus, and you'll have everything you need to build a playful, bold-and-blue look, or a classic smoky eye for a night out on the town.
BE TRUE
There is nothing more beautiful than when you are absolutely, unapologetically, YOU. Be True to you with our favorite selection of pinks, purples, and mauves. Couple the Be True Palette with Noble eyeliner, and the possibilities are endless. Be True offers nine beautiful shades that work together in perfect harmony.E CAPTIVATING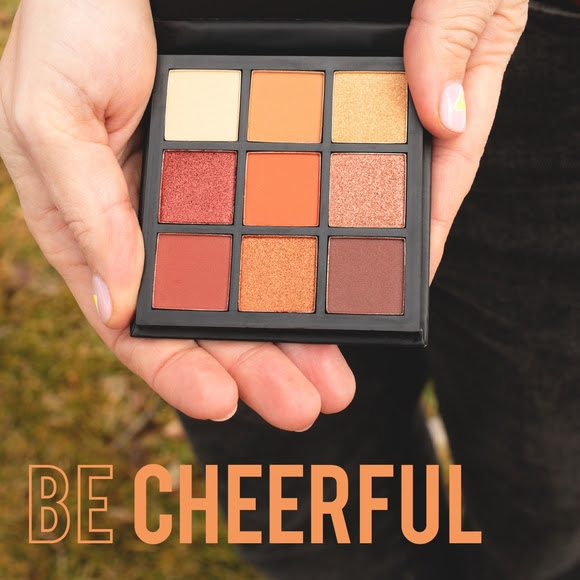 CHEERFUL
You have so many reasons to be cheerful, and this palette is one more! Be Cheerful will brighten your day and your eyes with this beautiful selection of shades in copper, burgundy and gold. Match Be Cheerful with Worth eyeliner and you won't be able to keep from smiling every time you look in the mirror.
BE HUMBLE
Beauty is kind, generous, and humble—BUT, it is hard to be humble about this stunning collection of neutrals, browns and pinks. Combine the Be Humble palette with our eyeliner in Worth or Focus, and you'll have all you need to create a myriad of gorgeous looks. And when you are done, you won't need to brag: because your eyes will say it all.